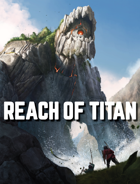 Reach of Titan
Publisher Description
Humanity has been scattered across the land, isolated in small villages that cling to existence. Giant creatures called Titan's roam the world destroying everything in their path. The only way for mankind to survive is by fighting against these behemoths, defending against the ones that pose a threat, and hunting others for food. That is the role of a Titan Hunter.
Reach of Titan is a game that uses an original system designed to emulate fantasy style fights with giant creatures. The game will have a familiar feel for those that have played Shadow of the Colossus, Monster Hunter, or watched the Attack on Titan anime. The battles are designed to be half-puzzle, half-combat where players must use more than their die rolls to bring down these behemoths. The encounters are challenging as you must solve the puzzle of killing the Titan, while working with the resource management system of combat. This combination of systems provides a very unique RPG experience.
Reach of Titan, Playtest - Rules SummaryCollapse
There is currently no summary for this edition of Reach of Titan. Would you like to
write one
?
Recommendation On