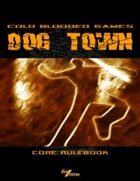 Dog Town
Publisher Description
Now Free!

Warning this game contains violence, swearing and lots of criminality.

Dog Town is a realistic role playing game set in a New York City ghetto in the mid to late 1970's, think of films like "Donnie Brasco", "Goodfella's", "Shaft" and "Carlito's Way" and you'll get the picture. It's about attitude and swaggering machismo, about being a "bad ass" like gangsters portrayed on the big screen. There are no heroes trying to save the world from evil forces, just at best anti-heroes trying to profit from it. There is no magic or special powers to save the character, and no supernatural creatures to need saving from. In Dog Town it is the people that are the animals and your own dark destructive motives, which you have to be careful of. Life often is short and brutal starting and ending in the gutter. That's just the way it is.

Dog Town offers the gamer the ultimate crime experience, 294 pages of pure punk role-playing in a completely non-linear, fully realized Grand Theft Auto style gaming environment themed with over a 100 quality illustrations and ten criminal types, from lowly runners to feared enforcers. Fast and funky with an attention to the detail of crime and sounds of the street, the ghetto lives and breathes with its own violent and cruel rhythm. Action is powered by the gore packed Split System, and is largely player driven, with moves made against this desperate backdrop, and around all the other punks, gangsters and whackos that are out there hustling and terrorizing like the players. In the world of crime it's dog eat dog.

So the deal went down like this. While you were doing your last bit in the joint; you heard about a deal. One hundred G to buy in and if all runs smooth in 90 days you'll be set for life. If you get to live that long that is, if you haven't lost you're edge or nerve while you were cooling your heels inside. If the cops don't bust you and a rival doesn't decide to sell you out, whack you out, or worse. There's always worse; you've done it yourself and had to live with it, dynamos and meat hooks, sick stuff all done in the name of Dead Presidents. So you get off the prison bus with $40 bucks and a pack of smokes to your name. Straight out of the gate you got to steal, deal, cheat and beat your way to the stake against the clock on the insanely violent and sleazy streets of Dog Town, an anonymous run down inner city neighborhood in 1970's New York infested with doped up gangs locked in bloody turf wars, and shark eyed Mafiosi squeezing the city and it's people dry. The payoffs going to the penthouse or the bottom of the East River, depending on the moves you make.

What's Inside

It contains 9 detailed and colored neighborhood maps, 10 flexible criminal types from lowly runners to feared enforcers and enough talents, flaws, vices and influence ratings to make any character interesting. The engine powering the game is Cold Blooded Games own Split System and covers in detail car chases, break ins, investigations and over 20 illegal rackets from gun running to pimping. Combat is covered in the gore packed Thug life and Shootouts chapters featuring four styles of unarmed combat, hitting first, using broken bottles and all out homicidal attacks. Lastly the Director's Chair provides the Games Master with the tools and hooks to create an appalling vivid gangster masterpiece. This game can be played as a traditional 3 to 5 player game, but is ideally suited because of the dynamic to a 1 to 2 player set up. This book has been updated and now includes quick reference sheets.
Dog Town, First Edition - Rules SummaryCollapse
There is currently no summary for this edition of Dog Town. Would you like to
write one
?
Recommendation On