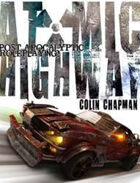 Atomic Highway
Publisher Description
Civilization came crashing down. Billions died.
A new Dark Age has begun. The descendants of the apocalypse's survivors scavenge the remnants of the Before Times, struggling to build a new life amidst the ruins of the old. In a savage world where the strong ravage and exploit the weak, the survivors' settlements are oases, connected only by convoys of armed and armored vehicles that run the gauntlet of raiders... and worse.
Though the threats of chemical and biological agents and radiation have all but faded, their taint lingers on in every mutant born to man and beast.
This is the world of Atomic Highway.
Atomic Highway is a complete roleplaying game. All you need to play it is this book, a few friends, paper and pencils, and a few ordinary dice.
Atomic Highway, First Edition - Rules SummaryCollapse
There is currently no summary for this edition of Atomic Highway. Would you like to
write one
?
Recommendation On