Publisher Description
In RPT#507 GM Josh asked for zombie tips. And boy, did RPT readers ever respond!
This issue is dedicated to every GM dying to run a zombie campaign. I say knock 'em dead.
Tips on How to Run a Killer Zombie Campaign [ edit ]
The 507th issue of the Weekly Zine "Roleplaying Tips" decided to ask their readers for tips on running a zombie RPG campaign ... and their readers certainly delivered.
This resource is just a single article (with just text, no images), but it's chock full of really great advice on running a zombie survival campaign. The topics range from dealing with finite resources, how to make a great zombie game, to the importance of dark hallways.
In short, if you're planning to start a new zombie campaign this great (free) article will give you lots of advice on how to make it fun and memorable for your group.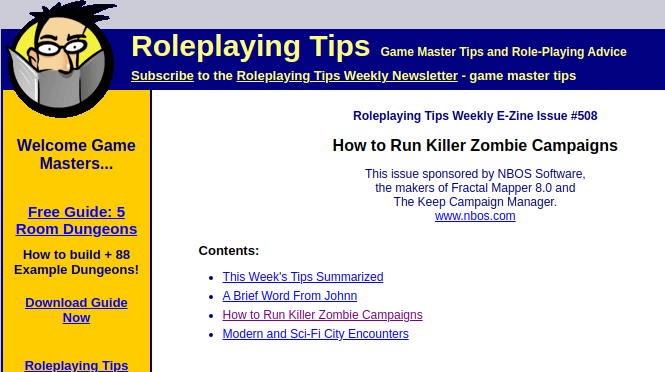 How to Run Killer Zombie Campaigns, from RolePlayingTips.com is available for free at: