Publisher Description
Welcome to the Mind of the Texas Zombie!
A Fan-Made Zombie RPG Resource Site [ edit ]
"Texas Zombie" (aka WDR, aka eviloverlord668) is clearly a huge zombie RPG fan, as he has created a webpage with a large number of detailed zombie-RPG-related articles.
Admittedly the site itself won't win any awards for its design, as it's purely text-based, with slightly difficult-to-read coloring. But if you can get past that you'll find a wide variety of resources on the site, a great deal of which is designed for use with All Flesh Must Be Eaten. For instance, there are NPC write-ups from famous movies like Dawn of the Dead, as well as several new "Dead Worlds", including one inspired by Clockwork Orange.
Even if you're not a fan of All Flesh Must Be Eaten, a lot of the material on the site can easily be adapted to any other zombie survival RPG. For instance, the scrounging charts or random encounter tables could be useful for any zombie campaign.
If you're looking for some free ideas to jumpstart your next zombie session, TexasZombie.com has a wealth of great zombie material available!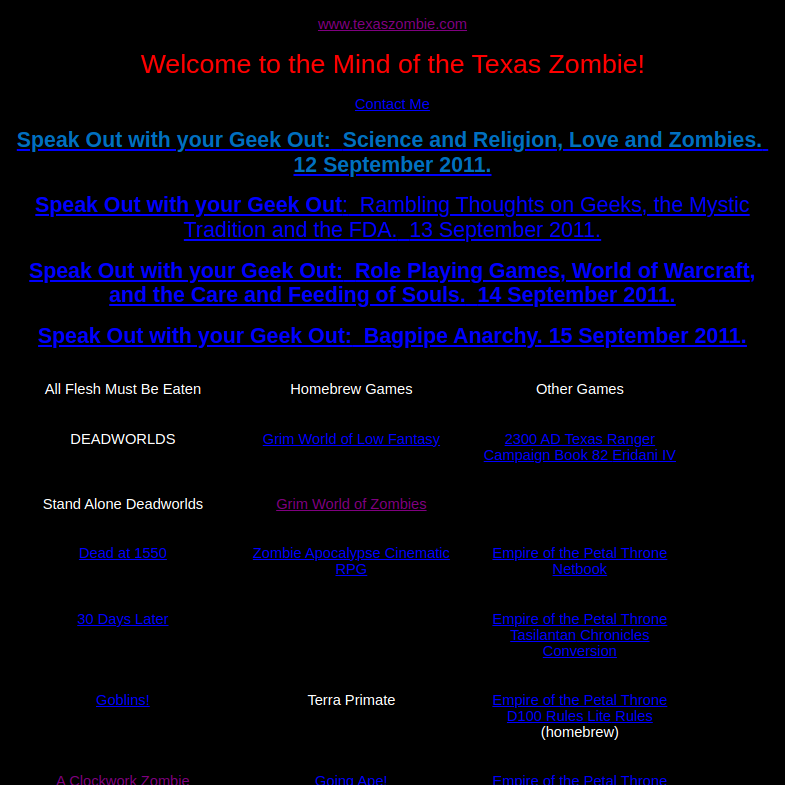 TexasZombie.com is available for free at: