A Great Pirate RPG Blog from Nate Christen [ edit ]
Nate Christen is a Minneapolis-based gamer with several gaming blogs, who also authored the Pathfinder adventure Peril in Freeport. One of those blogs is D20 Pirates.
As its name suggests, D20 Pirates started out as a blog with resources for running pirate adventures using the d20 system (ie. the open version of the 3rd Edition Dungeons and Dragons rules). However, over time he started exploring other topics, including other pirate systems (eg. Savage Worlds), as well as non-pirate material.
While his material may have started out for a d20 campaign, much of it (floor plans, NPCs, locations, etc.) can be very useful for GMs of any pirate campaign.
Lots of Great Pirate Resources [ edit ]
A few of the great resources you'll find on the blog include:
And there's also a lot more, including stats for d20 pirates, as well as some Savage Worlds pirate material. However, the blog also offers non-pirate content, so we recommend using the blog's search feature (in the upper-left) to search for "pirate", to help you find all the great pirate resources without having to wade through the other articles.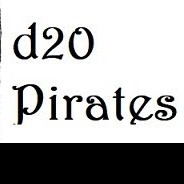 D20 Pirates is available for free at: