Publisher Description
From Wikipedia:
A General History of the Robberies and Murders of the most notorious Pyrates is a 1724 book published in Britain containing biographies of contemporary pirates, which was influential in shaping popular conceptions of pirates. Its author uses the name Captain Charles Johnson, generally considered a pen name for one of London's writer-publishers. The prime source for the biographies of many well-known pirates, the book gives an almost mythical status to the more colourful characters, and it is likely that the author used considerable licence in his accounts of pirate conversations. The book also contains the name of the pirate flag the Jolly Roger and shows the skull and bones design.
Dry But Detailed [ edit ]
When most gamers go looking for resources for their campaign, a history book from 1724 normally wouldn't be what they're looking for. After all, the writing of three centuries ago is both stylistically different, as well as a bit "dry" content-wise, at least compared to modern writing.
That being said, if one can get past those inconveniences, A General History of the Pyrates offers an amazing collection of pirate stories, written in the age of piracy. This book details the story of numerous famous pirates, ranging from
Bartholomew ("Black Bart") Roberts to Edward Lowe, James Martel, and Marie Read.
The Writing
Admittedly, the book's style of writing is ... well, antiquated. However, if you ever were able to read Shakespeare in your high school English class, you should have no problem with the text.
Here's a sample paragraph, from the start of the story of Black Beard:
Dward Teach was a Bristol Man born, but had sailed some Time out of Jamaica in Privateers, in the late French War; yet tho' he had often distinguished himself for his uncommon Boldness and personal Courage, he was never raised to any Command, till he went a-pyrating, which I think was at the latter End of the Year 1716, when Captain Benjamin Hornigold put him into a Sloop that he had made Prize of, and with whom he continued in Consortship till a little while before Hornigold surrendered.

In the Spring of the Year 1717, Teach and Hornigold sailed from Providence, for the Main of America, and took in their Way a Billop from the Havana, with 120 Barrels of Flower, as also a Sloop from Bermuda, Thurbar Master, from whom they took only some Gallons of Wine, and then let him go; and a Ship from Madera to South-Carolina, out of which they got Plunder to a considerable Value.

After cleaning on the Coast of Virginia, they returned to the West-Indies, and in the Latitude of 24, made Prize of a large French Guiney Man, bound to Martinico, which by Hornigold's Consent, Teach went aboard of as Captain, and took a Cruize in her; Hornigold returned with his Sloop to Providence, where, at the Arrival of Captain Rogers, the Governor, he surrendered to Mercy, pursuant to the King's Proclamation.
Tons of Pirate Era Goodness
While you won't find modern English syntax, what you will get from A General History of the Pyrates is a wealth of information about the Age of Piracy. And while the language may be dry, the content certainly isn't. For instance, did you know that Blackbeard brought his fellow pirates back to the home of his fourteenth wife for group orgies?
Before he sailed upon his Adventures, he marry'd a young Creature of about sixteen Years of Age, the Governor performing the Ceremony. As it is a Custom to marry here by a Priest, so it is there by a Magistrate; and this, I have been informed, made Teach's fourteenth Wife, whereof, about a dozen might be still living. His Behaviour in this State, was something extraordinary; for, while his Sloop lay in Okerecock Inlet, and he ashore at a Plantation, where his Wife lived, with whom after he had lain all Night, it was his Custom to invite five or six of his brutal Companions to come ashore, and he would force her to prostitute her self to them all, one after another, before his Face.
Or did you know that Mary Read killed her own lover in a duel ... to save him from being killed in another duel?
The young Fellow, who was made of Flesh and Blood, had his Curiosity and Desire so rais'd by this Sight, that he never ceased importuning her, till she confessed what she was. Now begins the Scene of Love; as he had a Liking and Esteem for her, under her supposed Character, it was now turn'd into Fondness and Desire; her Passion was no less violent than his, and perhaps she express'd it, by one of the most generous Actions that ever Love inspired. It happened this young Fellow had a Quarrel with one of the Pyrates, and their Ship then lying at an Anchor, near one of the Islands, they had appointed to go ashore and fight, according to the Custom of the Pyrates: Mary Read, was to the last Degree uneasy and anxious, for the Fate of her Lover; she would not have had him refuse the Challenge, because, she could not bear the Thoughts of his being branded with Cowardise; on the other Side, she dreaded the Event, and apprehended the Fellow might be too hard for him: When Love once enters into the Breast of one who has any Sparks of Generosity, it stirs the Heart up to the most noble Actions; in this Dilemma, she shew'd, that she fear'd more for his Life than she did for her own; for she took a Resolution of quarreling with this Fellow her self, and having challenged him ashore, she appointed the Time two Hours sooner than that when he was to meet her Lover, where she fought him at Sword and Pistol, and killed him upon the Spot.
A General History of the Pyrates is full of such surprising details, each of which could easily be used as the basis to craft an entire adventure. For instance, perhaps Blackbeard's wife tries to hire the party to help her escape her difficult marriage: do they do so, and incur the wrath of the famed pirate?
Ultimately, while not every gamer will be willing to wade through paragraph-long run-on sentences and other antiquated language details, those that can manage will find a true wealth of ideas for their pirate (sorry, pyrate) campaign in A General History of the Pyrates.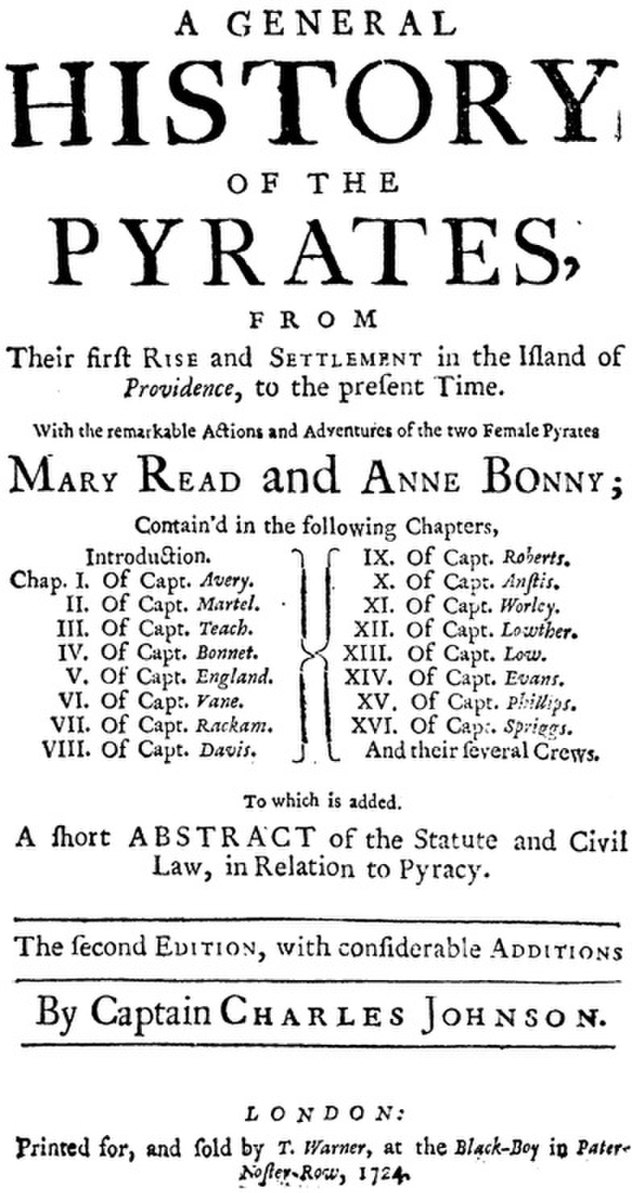 A General History of the Pyrates is available for free at: