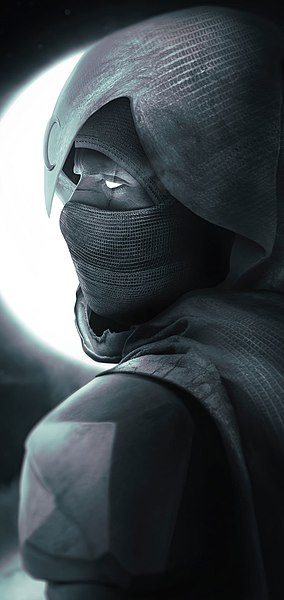 Moon Knight's Armor
Items of the MCU, Part 20
Hi everyone! Today's post is Marc Spector aka Moon Knight's armor as well as the armor manifested by his split personality, Stephen Grant aka Mr. Knight. The next post will be more MCU, with some of the relics of the Masters of the Mystic Arts! Let me know what you'd like to see!
"See how you fare against Harrow without the protection of my healing armor."
Notes: Not much to go into here. I watched a lot of clips to see how long the suit-up takes but it ranges from instantly to over ten seconds, so I decided to go with five. DR is inconsistent too, with the cape blocking bullets easily but the armor being penetrated by spears (thr+2). I decided to make the cape alone bulletproof, represented by Enhanced Block with Breakable a la the shield in Supers. I considered making Mr. Knight equal in point value with more Dodge and maybe more Striking ST, but they seem to be about even in physical ability.
Moon Knight and Mr. Knight (485): Bestowed by the moon god Khonsu upon his chosen avatar, this armor can be put on any time the user needs protection or must serve their god. It grants incredible strength, improved stamina and agility, and the ability to endure otherwise deadly amounts of damage. The standard suit can also manifest darts shaped like the crescent moon, which can return to the wielder. The suit seems to be able to manifest other weapons if the user desires, such as Mr. Knight's truncheons.
Alternate Form (Moon Knight, 509) -15%: Absorptive Change (No Encumbrance) +5%, Reduced Time 1 +20%, Granted by Patron -40% (459+13 -> (472))

Alternate Form (Mr. Knight, 459) -15%: Absorptive Change (No Encumbrance) +5%, Reduced Time 1 +20%, Granted by Patron -40% (13)
Moon Knight (509):
ST +10 (100); HT +6 (60); Speed +0.5 (10)

Catfall (10); DR 5: Flexible -20% (20); Enhanced Block: Breakable (DR 25+, SM -1) -20% (4); Enhanced Dodge (15); Enhanced Move (Air Move 28) (20); Flight -25%: Winged -25% (30); IT (Damage Reduction 3) (75); Regeneration (2/sec) (100); Striking ST +10 (50); Super Jump (10)

"Crescent Dart" Large Piercing Attack thr+1: ST-Based +100% (4)

AA (1): Crushing Attack thr+1: ST-Based +100% (3)
Mr. Knight (459):
ST +10 (100); HT +6 (60); Speed +0.5 (10)

Catfall (10); DR 5: Flexible -20% (20); Enhanced Dodge (15); IT (Damage Reduction 3) (75); Regeneration (2/sec) (100); Striking ST +10 (50); Super Jump (10)

"Batons" Crushing Attack sw+2 +75%: ST-Based +100%, Melee Attack (1) -25% (6)

AA (1): "Thrown Baton" Crushing Attack thr+1 +100%: ST-Based +100% (3)
This Resource is Part of a Collection