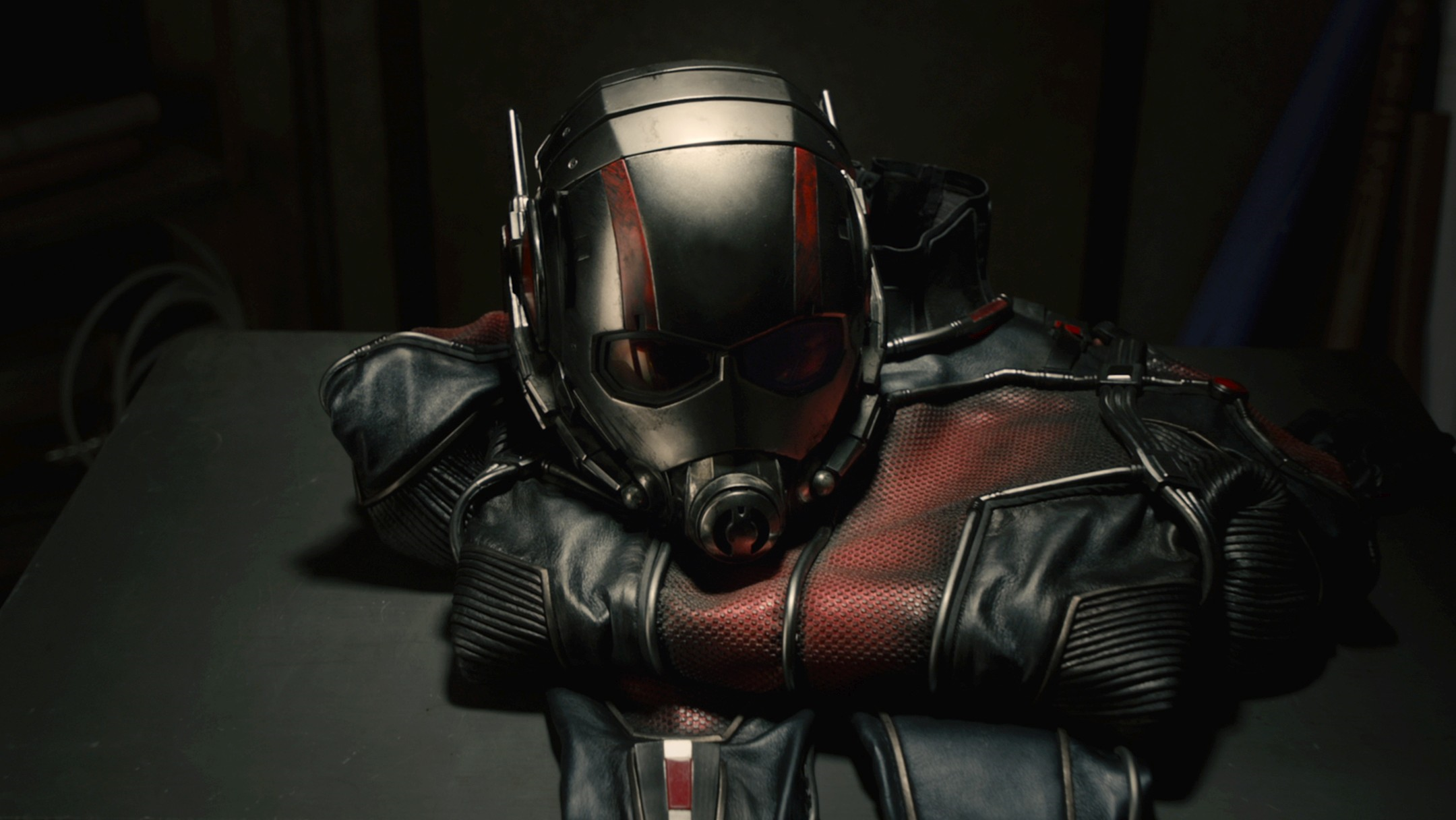 Ant-Man Suit and Pym Particles
Items of the MCU, Part 10
Hi everyone! Really went all out today (which means no defenses…) with three different items: Ant-Man's suit, his helmet, and the thrown Pym Particle disks. I love the fight scenes in both Ant Man and the sequel, and had fun rewatching them to build these items. I feel like I'd have a lot of fun using all of these in a game. I think the disks in particular allow a lot of creativity, although the versatility of the size changing can't be denied.
"In the right hands, the relationship between man and suit is symbiotic. The suit has power, the man harnesses that power."
Notes: I made the possibly controversial choice of using Alternate Form rather than Shrinking and Growth, but it seemed more accurate given the many additional abilities and traits in each form, and the fact that they only do their smallest or biggest sizes. If you'd prefer to use Growth/Shrinking, I guess you could add the other traits with Only When Shrunken or Only When Grown.
For the shrunken form, I'm using the optional strength-based jumping rules from B352 since that's a more accurate way to represent their jumps given their decreased Move when small. I determined his height to be about a ½ inch based on running under an interior door in this scene, and comparing his height to a pop tab when he's escaping from prison. Grown height is from dialogue. For the disks, I based the levels off the growth of a salt shaker (~3") to the size of a door (80") and the growth of a PEZ dispenser (5") to about 9'. I just reversed the number for Shrinking.
For added detail, you could add Corrupting 2 to both Alternate Forms, and give the helmet the points to buy off one level of this limitation (it's stated that the helmet protects one from most of the chemical imbalances that come with shrinking, but unprotected shrinking can be harmful).
Regulator/Suit (519)
Regulator -60%: Gadget (Breakable (DR 7, SM -7, Machine)) -20%, Gadget (Can Be Stolen (Forcibly Removed)) -30%, Superscience -10%
Alternate Form (Goliath, 447) +40%: Once On, Stays On +50%, Reduced Time 4 (1 second) +80%, Costs 3 FP -30%, Regulator -60% (447+21=(468))

AA (50): Alternate Form (Ant-Man, 220) +90%: Once On, Stays On +50%, Reduced Time 5 (Instantaneous) +100%, Regulator -60% (249)

Supersuit (1)
Ant-Man, 220:
SM -13 (½"); ST +6 (60); Move -9 (-45)

Altered Time Rate 1 (100); IT (Damage Reduction 5): Limited (Crushing) -40% (75); Striking ST +4 (20); Super Jump 1 (52" high, 10' broad) (10)
Goliath, 447:
SM +6 (65'); ST +98: Size -60% (392); Basic Speed -1 (-20)

DR 20 (Body): Tough Skin -40% (60); DR 10 (Enlarged/thicker suit) -70%: Can't Wear Armor -40%, Flexible -20%, Partial (Body) -10% (15); DR 40 (Enlarged helmet): Can't Wear Armor -40%, Partial (Head) -50% (40); Enhanced Move 3 (Ground Move 32) (60)

Decreased Time Rate 1 (-100)
Helmet (64)
Helmet -70%: Gadget (Breakable (DR 8, SM -4, Machine)) -30%, Gadget (Can Be Stolen (Forcibly Removed)) -30%, Superscience -10%
Accessory (Limited Air Tanks, Communicator) (2)

Mind Control +20%: Area 2 (4y) +100%, Based on HT +20%, Reliable 10 +50%, Helmet -70%, Limited to Ants -80% (60)

Protected Vision -60%: Gadget (Breakable (DR 8, SM -4, Machine)) -30%, Gadget (Can Be Stolen (Forcibly Removed)) -30% (2)
Pym Particle Disks (600)
Belt -30%: Gadget (Can Be Stolen (Forcibly Removed)) -30%
"Blue Disk" Affliction 5 +940%: Advantage (Growth 8) +800%, Based on Thrown Weapon (Disc) +0%, Extended Duration (Permanent, until neutralized by Pym Particle) +150%, Accessibility (Only on objects) -10%, Belt -30%, Superscience -10% (520)

AA (64): "Red Disk" Affliction 5 +540%: Advantage (Shrinking 8) +400%, Based on Thrown Weapon (Disc) +0%, Extended Duration (Permanent, until neutralized by Pym Particle) +150%, Accessibility (Only on objects) -10%, Belt -30%, Superscience -10% (320)

AA (16): "Organic Shrinking" Crushing Attack 17d -10%: Armor Divisor 2 +50%, Accessibility (Only on organic) -10%, Belt -30%, No Knockback -10%, Superscience -10% (77)
This Resource is Part of a Collection